Description
With theAIR 192|6, you can create 24-bit/192kHz studio-quality recordings with an intuitive and easy-to-use audio interface. Boasting an elegant pro-grade metal chassis with a large central volume knob, the AIR 192|6 features our exclusive Crystal™ low-noise pre-amps and pristine A/D converters that deliver the highest audio performance in its class. The AIR 192|6 enables you to record up to 2 channels at once with its 2 dedicated XLR+¼-inch balanced combo inputs, and 2 all-new ¼-inch instrument inputs that have a specially designed gain and impedance stage to provide the most accurate representation of a guitar or bass plugged directly into the interface. 5-pin MIDI In and Out connections are included for connecting synths, sequencers and other external MIDI gear. The AIR 192|6 connects to your Mac or PC via a standard USB or USB-C port using one of the two included cables. This premium hi-speed USB connection enables you to have zero-latency monitoring of your inputs, making the recording process easier than ever.
The overall combination of professional audio performance, easy-to-use features, and included AIR Series software bundle that provides everything you need to start recording now makes the AIR 192|6 an amazingly versatile, high-performance audio interface that sets the new standard for its class. You will be amazed at the incredibly solid construction, the high resolution and the overall ease of use. You couldn't make a better choice.
Premium Software Suite Included
The AIR 192|6 comes complete with a software package that has everything to get you started. With 2 powerful DAWs to suit your production needs, AIR 192|6 includes Pro Tools | First M-Audio Edition, and Ableton Live Lite. Pro Tools is the industry standard for recording software, and we've teamed up with Avid to craft a version of this terrific collection specifically tailored to our hardware. This amazing audio and MIDI recording software will inspire you to create, record and share your ideas across the world at any time.
We've also added an entire Effects Plugin, Virtual Instruments and Loop package to cater to all your production needs. Whether you need a guitar tone, reverb, or delay we've got your effects needs covered with Eleven Lite, the Avid Effect Collection and AIR's Creative FX Collection. With the included AIR Virtual Instrument plugins (Xpand!2, Mini Grand, Vacuum, BOOM, DB33), you'll have a virtual drum machine, synth, strings, percussion, organ and piano plugins to add world-class-sounding instruments to your songs with ease.
Crystal™ Preamps, Pristine A/D Converters & Premium Components
Our engineers designed the Crystal Preamps to provide you with a transparent, low-noise preamp that guarantees the best sound from your microphones and captures your performance exactly the way you intended. The AIR 192|6 incorporates pristine A/D converters for 24-bit resolution digital audio with explosive dynamic range that captures every nuance and subtlety of the performance. When combined with the class-leading sample rates of up to 192kHz, you can be sure your recordings are completely clear and true to the performance. With layout and component choices that were carefully crafted by our American engineering team, you're getting the best sound available.
Hear the Performance Now - Not a Second Later
When recording, you want to focus on capturing that perfect moment, and getting the best performance out of your artist and talent. You don't want to be bogged down by "clicks," "pops" or latency. The AIR 192|6 not only features a high-speed USB connection for providing the lowest round trip latency (2.59ms*) between your machine and your hardware, but it also features monitor mix control for listening directly to the source inputs, providing you with zerolatency technology.
Features
24-bit/192kHz resolution for professional recording and monitoring
Hi-speed USB circuitry for fastest connection, with class-leading round-trip latency of 2.59ms*
Transparent Crystal™ preamps and ultra-pristine A/D converters for unsurpassed audio recording quality
VU LED meters for dialing in the perfect level
Flexible inputs: (2) XLR+¼-inch TRS combo or ¼-inch instrument inputs
Use any combination of TRS combo or ¼-inch instrument input on the two channels: (2) TRS, (2) instrument or (1) of each
5-pin MIDI input/output for connecting virtually any external MIDI gear
Stereo ¼-inch outs; ¼-inch headphone out with independent level control
Rugged metal chassis; large central control for easy volume adjustment
USB/Direct knob for balancing between the input signal and the computer signal
Software Included – Pro Tools | First, Ableton Live Lite, Eleven Lite, Avid FX Collection & Touch Loops content, plus the Creative FX Collection, Xpand!2, Mini Grand, Vacuum, DB33 & BOOM VIs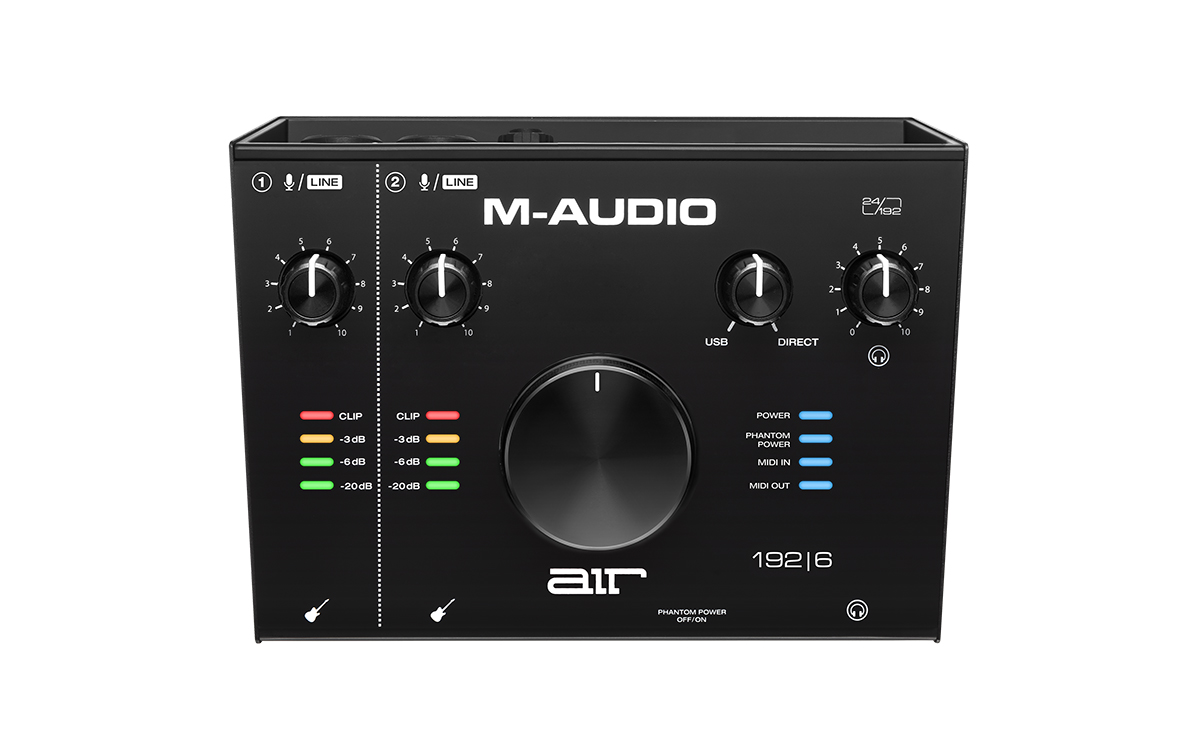 Payment & Security
Your payment information is processed securely. We do not store credit card details nor have access to your credit card information.