Description
Joyo ZGP 
The JOYO ZGP is a compact power converter, specially designed as a power supply for effects pedals. It can change your cell phone charger or power bank into an effects pedal's power supply instantly. Besides, Joyo ZGP can be installed on effects pedals or other devices easily, supplying stable and clean voltage. JOYO ZGP also includes a USB input cable in the box, so that you can use it to get center minus DC 9V voltage by connecting your cell phone or power bank to the ZGP-W. The output current reaches up to 400mA, quite convenient for supplying power to digital pedals. ZGP-W stands out for adopting a special circuit that filters out ripple noise. This power converter features reversed polarity, overload, high voltage, low voltage and short circuit protection. If it malfunctions, then the LED indicator will turn off automatically and protect the circuit, and secure your devices accordingly. It also supports wide input voltage and works from 5-9V DC. It is made of high quality materials that ensure stable performance.
 
Input voltage: DC5~9V
Output voltage: DC9V
Output current: 400mA
No load current: 70mA
Output polarity: center minus
Packing list: a ZGP-W, a USB-DC cable and a
DC connecting cable
Input polarity: center minus
Output voltage accuracy: 5%
Reversed polarity protection: yes
Joyo ZGP Weight: 17g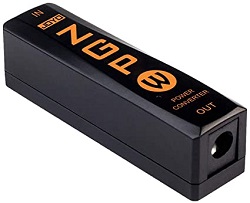 Payment & Security
Your payment information is processed securely. We do not store credit card details nor have access to your credit card information.